DETAIL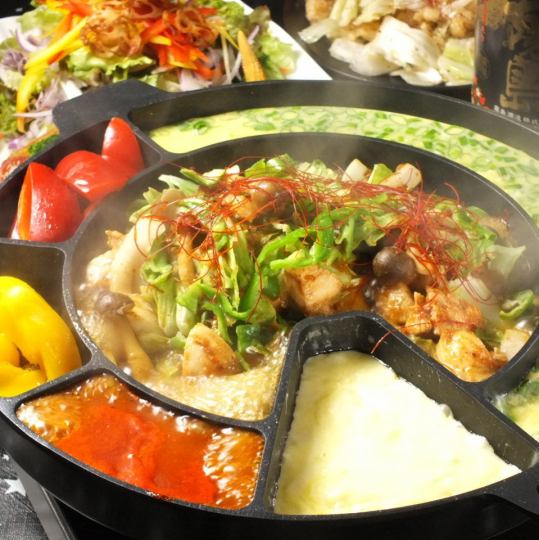 You can also eat vegetables ♪ Char-grilled cheese fondu ☆ Taccarbie ☆ 2500 yen + 500 yen with 2 H drinks available ♪ (tax included)
2500 Yen
(Tax included) * If you want to drink all you can, OK at __ 500 yen ♪
【It is a menu of reservation requiring reservation until the previous day!】 ★ With coupon use + 680 yen for 3 hours with all you can drink! ★ 【We will receive with reservation until 21 o'clock the previous day!】 Our shop cheese terbi is different from other stores! We do not use ordinary chicken, we use char-grilled chicken.The smell of charcoal and cheese compatibility are perfect ☆
Menu
The popular product of that rumor! Cheese fondue tacklebie will also appear in our shop !! Sweet cheese and Hokkaido hot sweet chicken, a course with cheese tackled with vegetables Gatsuri here! Please enjoy in conjunction with!
■ Original Salad (Nanasai salad)
■ Johnny's Rising Star
Two kinds of mushrooms (from bone-free, yuzu pepper)
■ Nirachidjimi
■ Char-grilled cheese fondue taccarbie
· Kerantim (Korean style egg steamed)
· Korean mochitchi (Tok)
· Seasonal vegetables such as paprika
■ One item of deferred
Grilled rice with fried egg or hard roasted egg
■ Ice
※ If you do not have any drinks, 2500 yen ♪
+ 680 yen for 3 hours with all you can drink !!!
Coupon that can be used
Mr. secretary must-see ___ ___ ___ 0 ___ ___ 0

Presentation conditions

At the time of booking

Conditions of use

Not valid for other tickets / services Not applicable / For over 10 people / reservation required / card unavailable / person who ordered more than 2980 yen course

Expiration date

Until the end of December 2017

<Girls' party or banquet> Sparkling wine gifts at reservations of 6 people or more ♪ OK even on the day ☆

Presentation conditions

At the time of booking and the time of order

Conditions of use

※ 12 people for ~ 2 gifts ☆ other tickets and services can not be used together,

Expiration date

Until the end of December 2017

【All-you-can-drink for 3 hours is also possible!】 Char-grilled cheese fondue taccalbi ☆ ☆ 2,500 yen + 680 yen with 3 H drink all you can do ♪

Presentation conditions

At the time of booking and seated at the time

Conditions of use

Other ticket services not be used, reservations required

Expiration date

30th December 2017